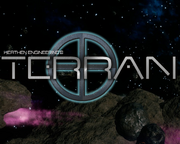 Terran is the first full-featured title from Heathen Engineering. A sci-fi themed game, the player takes on the role of a Terran, a cyborg-like evolution of human. Sandbox by nature, the game includes action, RPG, population management and even real-time strategy elements.
Terran is being built for Windows, Mac and Linux and will support a variety of VR headsets right out of the digital box. Having been under development for the past few years, the game is now looking for community support to find its way on Steam.
Capital-class Ship Combat is one of the game's key features. As a Terran pilot you are literally part of your ship. You can view your ship from one of its orbital cameras, or manage events and factions from your OS, a desktop-like screen. The OS concept replaces the traditional start/main menu with various 'programs' or 'apps' that you can use to learn about the galaxy and embark on adventures.
Project Fury
Terran also known as Project Fury from early concept works is the initial title from Heathen Engineering and is targeted for release on PC, Mac and Linux. The game is still in development and much of the wiki content is written directly by the developers to offer the community not only a source of up to date information on our progress and the evolution of the project but also the foundation of there own administered and operated wiki and community site that is to say that while we will lock a few pages during development we mean to open up and hand it over to the community on release of the game.
Credits
Project Fury or more properly Heathen Engineering's Terran is being developed by a multi-talented team of independent writers, actors, engineers and artists from around the world. Each contributor applies there own unique creativity and set of skills to the project. Heathen as always is looking for more talent to contribute; if your interested pleased e-mail Heimdal@HeathenEngineering.com.
Alphabetical Listing
Latest activity
Photos and videos are a great way to add visuals to your wiki. Find videos about your topic by exploring Wikia's Video Library.
Community content is available under
CC-BY-SA
unless otherwise noted.